Building the Future
2016 is a big year for The Centre for Independent Studies.
Not only does it mark 40 years for the Centre, but it is the start of an exciting new chapter, too.
After 36 years in St Leonards, we have purchased permanent headquarters at 131 Macquarie Street, right in heart of the cultural and historical centre of Sydney, and to a meaningful degree, the country.
With a purpose-built events space, dedicated media facilities and a larger research area, the new office will allow the Centre the much-needed space to meet the increasing demands for new analysis and policy ideas – and give us room to grow in the future.
Best of all, it will be all ours, securing CIS's central place in Australia's ideas landscape for years to come.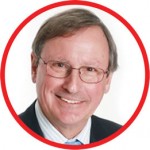 As a sign of confidence in the Centre, the CIS Board members have personally committed over $1.2 million towards the costs of the new premises, giving us a great head start on repaying the loan as soon as possible. Since we launched the appeal, a number of other generous supporters have already contributed to help us reach our aim of becoming debt free.
The promotion of free enterprise, individual responsibility and limited government has never been more important, and we are proud to lead this new chapter in the Centre's history.
We hope that you will join us in investing in the future of the Centre for Independent Studies.
Peter Mason AM
Chairman
Greg Lindsay AO
Executive Director