FIVE from FIVE helps parents get children ready to read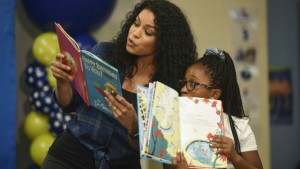 One in five Australian children begin school with poor language skills. In disadvantaged areas, it's close to one in three. Parents and carers have an essential role in building language and literacy development in the early years and can also play an important part on reading development when children start school.
Reading with children has a significant relationship with their language development but some ways of doing this are more effective than others. The biggest impacts of shared reading come when adults involve children in the process of reading­ — pointing out letters and the sounds associated with them, talking about words and their meanings, and encouraging children to engage with the reading process.
Research has shown that parental reading activities significantly increase children's reading ability, expand their vocabulary, and develop the expressive language skills that make it easier for children to learn to read when they go to school.
An Australian study found that children whose parents read to them every day from a young age achieved higher NAPLAN scores — the equivalent of between 12 and 20 weeks of schooling — than children who were read to less often.
A new part of the FIVE from FIVE reading campaign will focus on the literacy impact parents can have when they read to their children. It uses the evidence base on early literacy development to provide high quality, research-based advice and resources for parents.
Reading to children won't prevent all reading problems, however it gives children an important head start into developing the key literacy skills that underpin all educational achievement and have profound ongoing effects on employment, health, and general quality of life, including love of reading.
The FIVE from FIVE project provides parents with essential information and resources including:
The best way to read with children
Choosing books children want to read
Tips for teaching children about letters and sounds
How to develop vocabulary
Online games and apps for early literacy learning that reflect research evidence
Where to find specialist help for struggling readers
The new parent section of the project will launch online on September 24.