POLICY Magazine
To read the latest issue of POLICY in full please subscribe to the print or online editions.  POLICY is also available in select newsagents all over Australia.
Apart from the current issue, all past issues of POLICY are available to view free of charge. Look below this volume and click on the issue you would like to see.
Vol.33 No. 4 (Summer, 2017)
---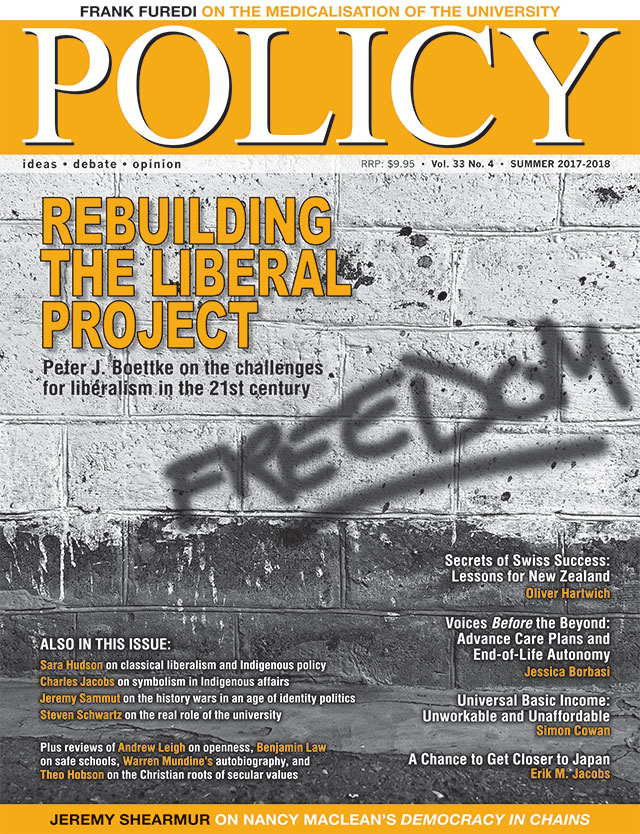 FEATURES
Voices Before the Beyond
Jessica Borbasi
Uniform national legislation on advance care plans and directives is needed to protect end-of-life autonomy.

Secrets of Swiss Success: Lessons for New Zealand
Oliver Hartwich
A study of the way Switzerland works yields some key insights into how to do things better in New Zealand.

Universal Basic Income: Unworkable and Unaffordable
Simon Cowan
Universal basic income is a deeply flawed idea that would require massive increases in taxation.

A Chance to Get Closer to Japan
Erik M. Jacobs
Abe's recent election win is a golden opportunity for Australia to deepen strategic ties with Japan.
ESSAY
Rebuilding the Liberal Project
Peter J. Boettke
In meeting the challenges for liberalism in the 21st century, we must insist that liberalism is liberal in thought, word and deed.
COMMENT
The History Wars in an Age of Identity Politics
Jeremy Sammut
Getting the history of 'racism' in Australia right is in the national interest in the age of identity politics.

Classical Liberalism and Indigenous Policy
Sara Hudson
Alcohol restrictions and affirmative action are not completely incompatible with classical liberalism.

Symbolism and Substance in Indigenous Affairs
Charles Jacobs
We need to ensure symbolism towards Indigenous Australians remains relevant and meaningful.
The Medicalisation of the University
Frank Furedi
The university risks becoming a de facto clinic where students are the patients.

The Real Role of the University
Steven Schwartz
Civilised debate on campus is crucial if the university is to prepare students for democratic citizenship.
BOOK REVIEWS
Choosing Openness: Why Global Engagement is Best for Australia
By Andrew Leigh
Reviewed by Michael Potter

Moral Panic 101: Equality, Acceptance and the Safe Schools Scandal
By Benjamin Law
Reviewed by Peter Kurti

Warren Mundine in Black and White: Race, Politics and Changing Australia
By Nyunggai Warren Mundine
Reviewed by Sara Hudson

Democracy in Chains: The Deep History of the Radical Right's Stealth Plan for America
By Nancy MacLean
Reviewed by Jeremy Shearmur

God Created Humanism: The Christian Basis of Secular Values
By Theo Hobson
Reviewed by Robert Forsyth

Browse Past Issues
---