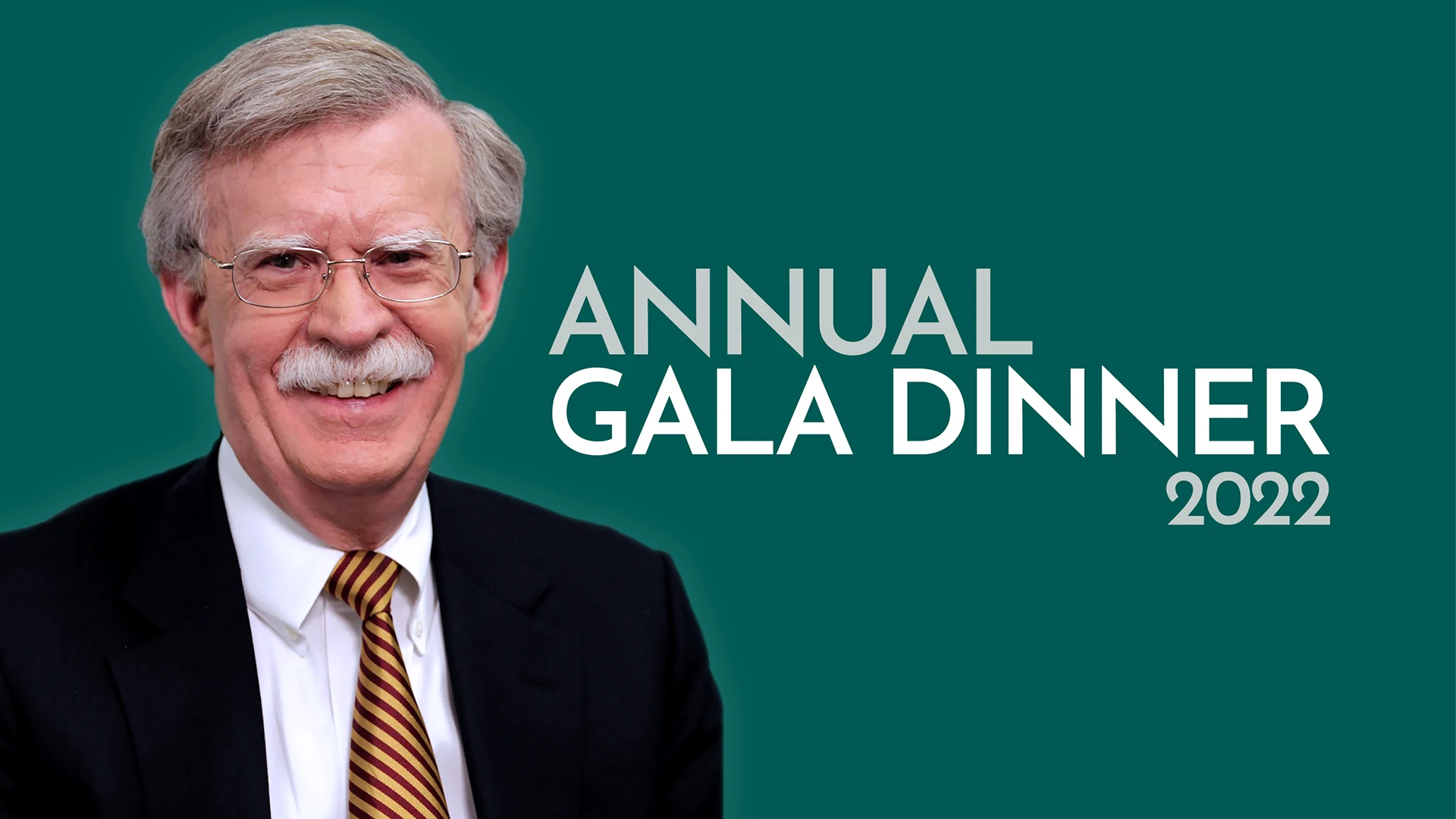 Date & Time
Wednesday, 24 August 2022
6:15 pm - 9:30 pm AEST
Location
Strangers' Room, NSW Parliament House, 6 Macquarie Street, Sydney, 2000, NSW
John Bonython Lecture and Gala Dinner 2022
The John Bonython Lecture series began in 1984 to honour the founding Chairman of the Board of Trustees and has had a tremendous impact on fostering debate and injecting new ideas into the broader public-policy discourse. Ambassador Bolton served as National Security Advisor for the United States throughout 2018-19. Prior to that, he was a Senior Fellow at American Enterprise Institute in Washington. Bolton has also served as United States Permanent Representative to the United Nations (2005-06) and as Under Secretary of State for Arms Control and International Security (2001-05). He is author of several influential books, including most recently The Room Where It Happened: A White House Memoir.
---
Join us for an evening filled with thought-provoking conversation. The Annual CIS Lecture and Dinner gathers CIS supporters, members and friends and provides the opportunity to honour our commitment to the core principles for which we stand.
This event has tiered ticketing options which include; VIP, Platinum, Gold and Standard.
Tickets are available for individual purchase, as well as by table. (Tables consist of 10 seats).
We advise patrons that cocktail attire is suitable, though no strict dress codes will apply.
Please be advised that all guests will be required to go through a mandatory security screening on arrival
| Pricing | Table | Seat |
| --- | --- | --- |
| VIP Ambassador's Table | N/A | $575 |
| VIP Director's Table | N/A | $575 |
| Platinum Table | $4,750 | $475 |
| Gold Table | $3,750 | $375 |
| Standard Table – Sold out | $2,750 | $275 |
Tickets begin from $475 and are inclusive of GST, to save on the Eventbrite booking fee please contact CIS directly to pay by invoice or credit card. Contact the Events Team via email at events@cis.org.au or by calling 02 9438 4377.
---
The U.S. vs the China-Russia entente. Ambassador Bolton will address the U.S. vs the China-Russia entente, and what he views as the strategic errors of many American conservatives. It has been more than 75 years since the U.S. last faced an axis of strategic threats. Fortunately, that axis proved dysfunctional. America's current strategic adversaries, Russia and China, are not an axis. They have formed an entente, which is growing stronger — as China's unambiguous support for Russia in the Ukraine crisis proves.
Many American conservatives increasingly believe that U.S. global involvement should be reduced or redirected. Some Australians and others in the Asia-Pacific region hope that opposing China's existential threat to the West requires reducing or even withdrawing U.S. support for allies in Europe and the Persian Gulf. But it is a strategic error.
Critically, those who exclusively fear China ignore the Russia-China entente. The entente serves to project China's power through Russia, as Beijing also projects power through North Korean and Iranian nuclear programs. Moreover, Beijing closely assesses Washington's reactions to crises like the one in Ukraine to decide how to structure future provocations.
Beijing is not a regional threat but a global one. Treating the rest of the world as a third-tier priority, a distraction, the U.S. plays directly into China's hands. Pivoting to Asia wouldn't strengthen America against China. It would have precisely the opposite effect and weaken the U.S. global posture. We need to see this big picture before the Russia-China entente grows up to be an axis.
---
Ambassador Bolton joins other leading thinkers from around the world including past speakers: