>
>
Eternal Vigilance: Ayaan Hirsi Ali and Janet Albrechtsen
Eternal Vigilance: Ayaan Hirsi Ali and Janet Albrechtsen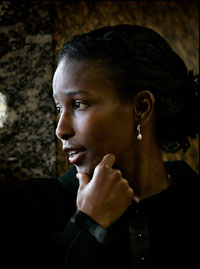 The Western world is justifiably proud of being an open and free society. Unfortunately, the right to speak freely and without fear or censure is being gradually and insidiously eroded by the rising threats of terrorism and political correctness.
In times of national and global uncertainty, it is natural to turn to government to provide assurances of protection and stability – assurances that are paid for by increasing restrictions on civil liberty and individual freedoms.
Implicit in the definition of a free exchange of ideas is allowing those who disagree with us to speak for their beliefs. But should we draw a line when the right to free speech is used to preach hatred and incite violence and fear in the name of religion? Is it hypocritical to try to silence such speech?
The Centre for Independent Studies is a vital part of the discussion in Australia to ensure that the right to free speech is not taken for granted.
Ayaan Hirsi Ali is one of the most courageous voices championing freedom of speech. Living under a fatwa because of her outspoken views against fundamentalist Islam, Ms Hirsi Ali refuses to be silenced on her urgent message that 'When Westerners do not criticize or question certain dogmas, certain aspects of Islam, they fail to support those Muslims who also try to doubt these subjects. They abjure their own values. And when they do that, their society is doomed.'
Ms Hirsi Ali will discuss current threats to free speech with The Australian columnist Dr Janet Albrechtsen. Guests will have the opportunity to exercise their freedom of speech to comment or ask questions.