>
>
Liberty & Society Student Conference - Sydney 2016 (Applications closed)
Liberty & Society Student Conference - Sydney 2016 (Applications closed)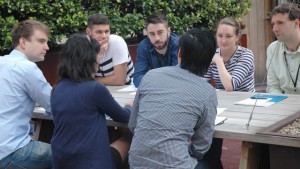 Do you like to challenge yourself, question the way decisions are made and think seriously about the future of Australia and New Zealand? If you have started exploring the possibilities offered by classical liberal ideas then this conference is an opportunity not to be missed.
The Centre for Independent Studies recognises the importance of exposing, challenging and supporting young people who have an interest in exploring the foundations of a free society. The Liberty and Society student conferences are highly regarded with many participants saying the weekend was pivotal in building their personal philosophical framework.
Successful applicants from Australia or New Zealand receive a scholarship that covers food, accommodation and most of the travel.
'It's a rare opportunity to get a crash course in the fundamentals of Classical Liberalism, with a bunch of thirty other bright young minds. Wish it could have gone for another day, it seemed over before it began!' ZC April L&S
---
6.30pm Friday May 27 – 3.30pm Sunday May 29 I The Harbourview Hotel, North Sydney I Closing date 18 April 2016.