>
>
Lindsay Tanner discusses Sideshow: Dumbing Down Democracy
Lindsay Tanner discusses Sideshow: Dumbing Down Democracy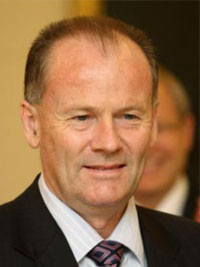 Former Finance Minister Lindsay Tanner discusses the painful truth about Australian politics and the media in his new book, Sideshow: Dumbing Down Democracy.
"After spending much of my life dedicated to the serious craft of politics, I have to admit that I am distressed by what it is becoming. Under siege from commercial pressures and technological innovation, the media are retreating into an entertainment frame that has little tolerance for complex social and economic issues. In turn, politicians and parties are adapting their behaviour to suit the new rules of the game – to such an extent that the contest of idea is being supplanted by the contest for laughs."
Lindsay Tanner practised as a lawyer then served as Victorian Secretary of the Federated Clerks Union before entering Federal Parliament in 1993.
He held a variety of front-bench portfolio responsibilities including Transport, Finance and Communications before serving as the Federal Minister for Finance and Deregulation from 2007 to 2010.
Lindsay Tanner was a member of the fabled "Gang of Four" at the centre of the Rudd Government and through the Global Financial Crisis. He was widely regarded as one of the Government's strongest economic thinkers and is respected by industry leaders and economic analysts.
Copies of Sideshow will be available for purchase and signing.