>
>
What is Liberty & Society?
What is Liberty & Society?
Liberty and Society is a unique conference program for undergraduates, postgraduates and recent graduates over the age of 18 who live in Australia, New Zealand or the South Pacific. The goal of the Liberty and Society conferences is to create an intellectual environment where ideas and opinions about what makes a free society can be discussed, argued and learnt.
Liberty and Society is for young people who may be questioning the standard answers they are getting regarding social, political and economic issues. You may not see yourself as a fitting into the 'left' or 'right' mould. This is an opportunity to consider the classical liberal perspective. Classical liberalism promotes individual freedom, private property, limited government and free trade.
Students from every Australian state and New Zealand attend. Formal and informal discussions on economics, political thought, law and social policy dominated the weekend interspersed with arguments about foreign policy, education and politics. Generous scholarships allow everyone to apply.
Join us for an intellectual experience that may change the way you think about the world.

Background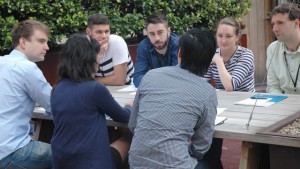 The live-in weekend conferences consider the world from a 'classical liberal' perspective. This means exploring:
How much individual freedom is possible?
How much government do we need?
What are the practical implications of reducing government?
What are the necessary foundations to build a free, open society?
These issues and other topics are brought into focus with presentations by lecturers, question and answer sessions, group discussions and informal chats.
Type of conferences
There are two levels of conferences. The Introductory Liberty and Society conferences are open to all undergraduates, postgraduates and recent graduates over the age of 18 who have an interest in liberal ideas. For news on the most recent Liberty and Society conference go to News.
The other conference called the Advanced Liberty and Society is open to people who have attended the Introductory conference and have pursued their interest in liberal ideas. The Advanced conference has a slightly more practical bent with practitioners in government and business being involved. It also offers participants the opportunity to present a paper they have written on topics involving liberal issues or perspectives.
Who can attend?
The conferences are open to all undergraduates, recent graduates and those studying higher degrees over the age of 18. The conference is not available to students in high school. Participants come from Australia, New Zealand and PNG and they can be studying any subject. It is not a prerequisite to have a great deal of knowledge about classical liberalism. We are interested in people who are inquisitive about society and how it works.
Participation is free.  Applicants selected to attend the conferences are awarded a full scholarship that is worth around $1000. This covers the cost of the programme, materials, accommodation and food. There are also generous travel scholarships available.
The scholarships are made possible through the generous support of the contributors to The Centre for Independent Studies. These individuals, companies and foundations believe in the importance of encouraging young people to have a clear understanding of what makes a free and open society.