After such an astonishing and exhausting year, we're all due a little downtime to decompress. So CIS researchers and staff have recommended some excellent books to see you through the holiday season.
Tom Switzer
A few years ago, Robert Gates – defence secretary in both the Bush Jr and Obama administrations – was asked what was the greatest threat to American national security. His answer? Not Russia. Not China. Not Iran. Not Sunni jihadists. No, according to Gates, the greatest threat to American national security was "the two square miles that involve the Capitol Building and the White House."
Ever since Gates made those remarks in the northern winter of 2013-14, the polarisation, hyper-partisanship and politicking that has characterised public discourse in Washington has become even more intense.
However, what you see today, according to my favourite book of the year, is the opposite of the Washington of the 1980s and 1990s – the Washington of one James Baker: the only person to run two White Houses (indeed the only person to serve as chief of staff to two presidents), to run two cabinet departments (Treasury and State) and to run five different presidential campaigns. An extraordinary career in public service.
The book is called The Man Who Ran Washington: The Life and Times of James A. Baker III. And the authors are Peter Baker and Susan Glasser, a husband-and-wife team, whom I had the pleasure to interview in October on my ABC Radio National program. I skimmed the Baker biography in October, and enjoyed it so much I am going to read all 600-plus pages closely during my Christmas break. Call me a dork, but the book will remind me of better times in Washington.
Simon Cowan
I have two recommendations, both work by my excellent colleagues. Forgotten Freedom No More: Protecting Religious Liberty in Australia – Analysis and Perspectives, edited by Robert Forsyth and Peter Kurti. In this collection of essays, a series of highly distinguished authors from across the political, religious and social spectrum address the importance and fragility of religious liberty in this nation.
Sacred & Profane: Faith and Belief in a Secular Society by Peter Kurti. This collection of pieces by Peter Kurti address some of the most challenging social and cultural issues of our times. Peter leads us on a search for the appropriate balance between the needs, beliefs and concerns of all citizens, both those who hold religious beliefs and those who do not.
Peter Tulip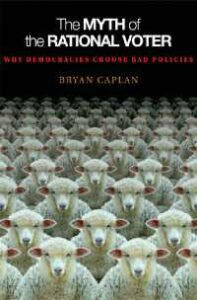 The book I most enjoyed reading this year was The Myth of the Rational Voter: Why Democracies Choose Bad Policies by Bryan Caplan. Behavioural economics applied to politics. Voters appear to make systematically biased decisions.  They are excessively pessimistic, anti-foreigner, anti-market, and in favour of make-work schemes. We need to design our systems to minimise the damage these biases cause. Very persuasive, readable and relevant.
Robert Carling
Not a book, but an important essay: John H. Cochrane, "Debt still matters", Nov 12, 2020. One of the consequences of the pandemic and the policy responses to it has been a huge increase in public debt. Many economists say this does not matter, and public opinion is happy to go along with that if it means receiving more social benefits from government. But the debt explosion does matter, and this essay by John Cochrane of the University of Chicago is one of the best explanations for the non-expert of why it matters. It is written in the US context, but is relevant to all countries including Australia.
Peter Kurti
The Tyranny of Merit: What's Become of the Common Good? by Michael Sandel, who argues that the 'rhetoric of rising', so characteristic of a meritocratic society, has heightened social and economic inequality by generating a culture of success which imposes a harsh judgment on those left behind. Remaking One Nation: The Future of Conservatism by Nick Timothy. One of Theresa May's former advisors takes stock of political divisions in British society and advocates for a revised form of conservatism that continues to respect personal freedom but places greater emphasis on fostering social solidarity and a spirit of mutual responsibility. Greed is Dead by Paul Collier & John Kay. Two prominent Oxford economists declare that the extreme individualism which has long been a feature of economic and political argument is no longer tenable and that markets can only function effectively when embedded in a network of social relations.
Monica Wilkie
The Trials of Portnoy by Patrick Mullins. A fantastic look into the history of censorship in Australia. Mullins recounts stories of how people would smuggle novels in, in fragments to avoid the censors. Bookshops were raided to ensure they were not carrying any material that could 'morally corrupt.' This was the norm until Penguin decided to take on this censorious attack on publishing and fight back.  Mullins tells the story of how the censorious regime began, and ended.
Glenn Fahey
My recommendation will come as no surprise to anybody who knows me, as I've been raving about this one for months.  How to Destroy America in Three Easy Steps by Ben Shapiro. An essential read for anyone concerned for the shared history, ideals, and culture that have seen Western civilisation deliver the prosperity and freedoms we enjoy today.
With his characteristic wit, rigour, and logic, Shapiro's book will arm you with the ammunition to debunk claims made by any government-dependent, history-rewriting, and freedom-hating acquaintances or family members you find yourself quarrelling with over the holidays.
Robert Forsyth
The New Social Contract: Renewing the liberal vision for Australia by  Tim Wilson. Wilson argues that as Australia's demographic profile changes the legitimacy of liberalism, what he calls its 'social licence,' is under question. For it to be relevant and gain an enduring constituency again it has to be seen to work in lived experience by enabling individuals to flourish. In a time when Liberalism is missing in action, the book contains both analysis of the problem and a suggestions for effective change.
Fiona Mueller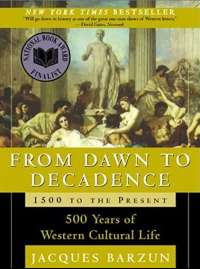 From Dawn to Decadence: 500 Years of Western Cultural Life by Jacques Barzun. "Except among those whose education has been in the minimalist style, it is understood that hasty moral judgments about the past are a form of injustice." Twenty years on, Jacques Barzun's rich analysis is just the book that helps to both understand and push back against the narrowing, politically correct positions being taken by those who think old, white, male historians could not possibly have anything to offer the twenty-first century world.
Not only is his written English a joy to read, his book manages to point without hysteria at the many women who have left their mark and tell the reader of forgotten or obscure people and events that have influenced our lives.
Scott Prasser
Why the Germans Do it Better – Notes from a Grown Up Country by John Kampfner. This is not the over the celebratory book it sounds. While it highlights German success, it frankly discusses past and current problems. Its theme is that no other country has been through what Germany has – lack of a democratic tradition, WWI, defeat, Versailles, civil war, the Depression, the Nazis, WW II, near total destruction, guilt, occupation, division, and reunification – and come out of it so well as a truly democratic and corrupt free state, and economically and socially successful. There is much to learn from Germany.
Jane Black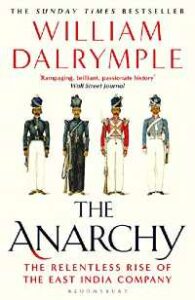 The Anarchy: The Relentless Rise of the East India Company by William Dalrymple. Described as "Gloriously opulent…India is a sumptuous place. Telling its story properly demands lush language, not to mention sensitivity towards the country's passionate complexity. Dalrymple is a superb historian with a visceral understanding of India…A book of beauty." (Gerard DeGroot, The Times) I'm looking forward to reading this over the holidays.
Max Hawke-Weaver
CIS Classics: Liberty & Liberalism by Bruce Smith. Smith set out his political philosophy in Liberty and Liberalism (1887) for the purpose of tracing the gradual growth of our civil liberty, from historic times, and of investigating the principles which inspired our ancestors. This was the first substantial work on Liberalism in Australia, being originally published in 1887 and republished in 2005 by the Centre for Independent Studies. Download the PDF here or copies are available from the Centre on request.
Sue Windybank
Prize-winning historian Peter Cochrane's second turn to fiction – The Making of Martin Sparrow – is old-fashioned storytelling at its evocative best. Set on the majestic Hawkesbury river in 1806 after a devastating flood, it's a gritty and gripping account of everyday frontier life. The story details the trials and tribulations of a rather pathetic ex-convict and the rag-tag group of farmers, hunters, soldiers and prostitutes who constitute the fledgling settlement, and documents their uneasy and often brutal encounters with first peoples.
Karla Pincott
The Rational Optimist: How prosperity evolves by Matt Ridley. A highly accessible, often entertaining, exploration of how trade and specialisation — the foundations of capitalism — lifted humanity to flourish and prosper. A great stocking stuffer for any socialist friends or family. Also worth having a look at Ridley's CIS paper, Innovation in Australia.
Voyages of Delusion: The Quest for the North West Passage by Glyn Williams. A fascinating — and thoroughly-researched — examination of the 18th-century obsession with findng a Northwest Passage from the Atlantic Ocean to the East Indies; which would have revolutionised trade (had a break in the land mass actually existed). It covers the main expeditions into Hudson Bay, including that of ill-fated James Knight, which vanished while wintering on bleak Marble Island. Williams also gives deep insight into the political importance of the Hudson Bay Company and its trade.