National curriculum must ditch politics for evidence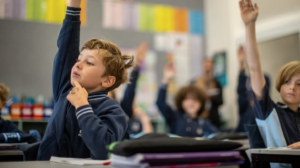 As the dust settles on proposed changes to the national curriculum, gears must shift from debating the political to a focus on advancing educational practice.
Public consultation opened last week on the long-awaited Australian Curriculum, Assessment and Reporting Authority (ACARA) draft review of the national curriculum – just its second since the authority was launched over a decade ago.
Much ink has already been spilled, with heated reactions to its surprisingly radical proposed changes. Detractors have taken aim at a perceived snubbing of elements of Western civilisation, some (arguably) provocative language concerning Australian history, and an elevation of sensitive content to the national remit.
Federal Education Minister Alan Tudge has sounded disapproval while state and territory ministers – who also must sign off on the proposal – are believed to share misgivings. ACARA itself has been divided over key changes, with its board reportedly rejecting preliminary drafts. The controversy has even resulted in calls for ACARA to be disbanded.
Robust debate over curriculum is warranted, particularly the national one, since it serves as a framework for all Australian educators and students. Curriculum unavoidably reflects a value statement of our priorities for young learners and how they are to be educated. But lessons must also be learned from our short history of a national schooling document.
The 2014 review was panned by some educators, who largely dismissed it for its supposed politicisation. There is a risk that this review, by allowing heated politics to obstruct constructive engagement, will be another missed opportunity to support a much-needed educational turnaround.
The achievements of Australian students in the OECD-run Programme for International Student Assessment have declined more consistently and steeply than in any other country, barring fad-friendly Finland. For this reason, the imperative must be for the new curriculum to bolster rigour, focus educators' work on what counts, and champion evidence-based practice. Yet, rather than putting to bed the popular, but misguided, practices of "inquiry-based learning", these evidence-free approaches appear to be green-lit in the new curriculum.
While inquiry-based approaches differ across learning areas, what's common among them is a mistaken view that learning should be child-directed, rather than teacher-directed. Repealing these educationally flawed influences – both in literacy and STEM instruction – is where policymakers' sights must be set.
Despite sustained efforts over the past decade, the proposed curriculum hasn't taken the opportunity to toll the death knell on so-called "whole language" teaching – a discredited approach that encourages students to guess and memorise words, rather than systematically learning how to read. That's noticeably out of step with Canberra's cheerleading to advance phonics instruction — such as through a voluntary Year 1 check and bolstered expectations on teachers' training in these methods. It's sadly a warning that NSW Education Minister Sarah Mitchell's declaration that "the reading wars" are over could prove to be premature.
However, red flags are arguably most evident in changes to STEM, validating fears we're on the brink of "maths wars" paralleling the hard-fought battles over reading. At issue is how to best prepare students to apply maths and science knowledge, particularly in problem-solving and demonstrating creative and critical thinking. Teachers are now too-often seduced by faddish approaches that promise a shortcut to STEM mastery by sidestepping foundational – and occasionally monotonous – concepts.
As with reading, the weight of evidence backs teacher-directed approaches and debunks child-directed ones – including those that privilege learning via group exercises, reverse-engineering from project-based applications, and encouraging aimless exploration (otherwise known as guessing).
Proposed curriculum changes will dumb down our students and leave them less capable of STEM success. International research clearly shows inquiry-based approaches to STEM are as educationally damaging as those that have been long tolerated in literacy. Yet, Canberra has been asleep at the wheel while best-practice STEM instruction has been displaced. The National STEM School Education Strategy, for instance, includes programs that shamelessly endorse untested approaches unsuitable for most Australian students.
The final version of the curriculum – to be presented later this year – must clean the house of inquiry-based approaches across the board, if there's any hope of reversing the decline in student outcomes. For top marks, policymakers must commit to following the educational science. Ultimately, the test for curriculum changes must be based on pedagogy, not politics.