School closures: light at the end of the tunnel – except in Danandrewstan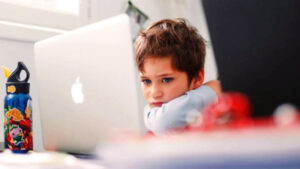 There is light at the end of the tunnel. Parents and policymakers have generally had enough, and schools are now on the path to completely re-open in most states and territories, if they aren't already open.
This is thanks in part to increasing concerns about the negative effects of school closures on many students, particularly those from disadvantaged families — not to mention the growing realisation that it's practically impossible for most parents to simultaneously work from home and supervise their children's education.
It has also put unnecessary strain on schools to deliver both face-to-face and online classes, while monitoring 'attendance' of some students on-site and some at home.
These issues should have been obvious from the start (after all, schools exist for a reason). Asking parents to keep their children at home with only limited exceptions was always problematic.
New independent research for the National Cabinet has confirmed the downsides of learning from home. For example, it is estimated that disadvantaged students could fall four weeks behind in reading and six weeks behind in numeracy if online delivery continues for two terms.
In addition, expert medical advice for the past month has been there is no reason to keep schools closed. A report from the National Centre for Immunisation Research and Surveillance found an "extraordinarily" low rate of COVID-19 transmission in schools and that there were no cases of students infecting staff.
It was merely a union-influenced political decision by state governments to ask all parents to keep their children at home if possible.
The current advice to parents varies significantly between states and territories, and between sectors.
In NSW, for example, government schools will move back to normal in a phased return over a month, starting with all students attending school just one day a week (a confusing approach that has been rightly questioned by education unions).
The staggered plan is especially concerning for Year 12 students in government schools, who may fall behind students at non-government schools with more face-to-face teaching. Hopefully, the NSW government will accelerate the re-opening process for Year 12s.
Victoria is an exception, with the state government maintaining all students should continue learning from home if possible. This is clearly against the expert medical and educational advice given to the National Cabinet. If it continues for too long, it will potentially cause substantial educational harm with little medical benefit.